Description
This spoiler is a must have for anyone looking to keep the ZR1 spoiler style, but wanting something more aggressive. Our ZR1 Extended Rear spoiler does exactly that and has the best of both worlds: a perfect balance between an extra touch of aggressiveness while still looking like OEM. This spoiler fits all models of the C6 Corvette 2005-13.
This spoiler has an extra touch of aggressiveness while still looking like OEM.
Compatible with OEM 3rd brake light. [GM part # 10440719]
Drilling may be required.
Light weight.
Fits all models of the C6 Corvette 2005-13.
Finish Option:
Carbon Fiber 100% authentic Carbon Fiber fabric with a weave pattern that has a direct match to the pattern used on factory Carbon Fiber parts from GM. The Carbon Fiber layer is reinforced with aerospace fabrics for additional strength.
Painted Gloss Black made with high grade composite materials. Painted with automotive Black paint and polished to achieve a high gloss finish, ready to install
Unpainted Composite Reinforced with high grade composite material. This finish option is ready for you to primer and prep the product for paint. An excellent choice for customers wanting to paint their parts or wanting to wrap them.
Carbon Fiber products are sprayed with 3 generous coats of clear to ensure a long lasting gloss finish and UV protection. In addition to a high quality automotive clear coat, we use a marine based clear gel coat to add extra depth as well as UV protection into our products. The clear coat is then hand polished and sanded to achieve a long lasting beautiful finish.
Our products are tested and verified with CFD analysis for optimum results and aerodynamic efficiency.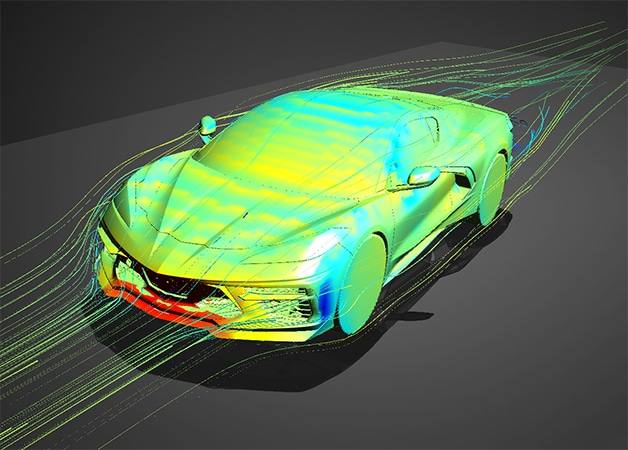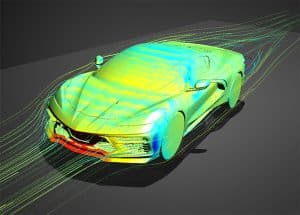 Quality and Craftsmanship. Built in-house at our own dedicated manufacturing facility where we build all of our products to maintain a meticulous quality standard. All of our painted products go through a 3 Stage clear coat and finishing process to ensure a lasting gloss finish that will provide years of protection for your product. All of our painted products are sprayed with a premium automotive UV clear coat.
The C7