Description
Give your Camaro that aggressive stance found on the gen6 ZL1 1LE Camaro while still keeping the factory SS bumper. Designed to help increase downforce and help offer stability at high speeds.
100% Authentic Carbon Fiber [2×2 twill] made from a true composite process.
Offered in Carbon Fiber finish, Gloss black and Composite Unpainted.
Made with a specialized vacuum bagging technique for light weight and high durability!
Exposed Carbon Fiber surface.
UV resistant clear coated and polished for a gloss finish.
Pre-drilled Splitter holes.
Carbon Fiber Endcaps that bolts on to the sides of the splitter are included.
This item fits 2014-2015 SS models only.
Finish Option:

Carbon Fiber 100% authentic Carbon Fiber fabric with a weave pattern that has a direct match to the pattern used on factory Carbon Fiber parts from GM. The Carbon Fiber layer is reinforced with aerospace fabrics for additional strength.
Gloss Black made with high grade composite materials. Painted with high grade Black automotive paint. Hand polished to achieve a high gloss finish, ready to install.
Unpainted Composite Reinforced with high grade composite material. This finish option is ready for you to primer and prep the product for paint. An excellent choice for customers wanting to paint their parts or wanting to wrap them.
Carbon Fiber products are sprayed with 3 generous coats of clear to ensure a long lasting gloss finish and UV protection. In addition to a high quality automotive clear coat, we use a marine based clear gel coat to add extra depth as well as UV protection into our products. The clear coat is then hand polished and sanded to achieve a long lasting beautiful finish.
Our products are tested and verified with CFD analysis for optimum results and aerodynamic efficiency.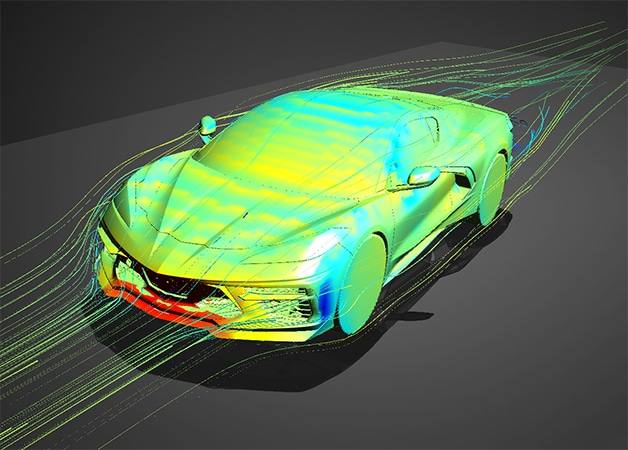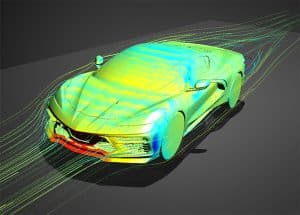 Quality and Craftsmanship. Built in-house at our own dedicated manufacturing facility where we build all of our products to maintain a meticulous quality standard. All of our painted products go through a 3 Stage clear coat and finishing process to ensure a lasting gloss finish that will provide years of protection for your product. All of our painted products are sprayed with a premium automotive UV clear coat.
The C7 Carbon difference:
We are one of the few manufactures that purchases all the cars we build products for.  Our advanced design team has years of engineering experience with composites, and allows us to offer the best quality products for your car.
Our inhouse design department scans in all of the cars we are working with and creates cad files from the scans to create a digital twin of the car so we have accurate measurements for our design and production concepts and fixtures.  We constantly improve our tooling and product versions to offer the best products possible for our customers.
Our dedication to quality has allowed C7 Carbon to become a world leader in manufacturing automotive products.  We have customers across the world running our products.
Please contact us for current lead times!
We ship all over the world. contact us for a quote.
ITEM IN PRODUCTION
A NEW ORDER FOR THIS ITEM MAY TAKE APPROX. 8-10 WEEKS TO BE READY TO SH