Description
Ready to add downforce to your C8 Z06?  Enhance your corvettes downforce with our C8 Z07 Style canards!  We started we factory Z07 canards and 3D scanned them to create our virtual twin canard.  After the canards were digitized we sent the design to our inhouse cnc department to mill our molds and master plugs so we could create the best fitting canards on the market.
Canards fit all models of the corvette C8 Z06.
If you have a non Z07 Z06, you will need to cut slots into the bumper to allow for the flanges to pass through and bolt into the car.
Our canards are made from 100% carbon fiber
Our canards are ready to install.
Fits C8 Z06 only.
Our products are tested and verified with CFD analysis for optimum results and aerodynamic efficiency.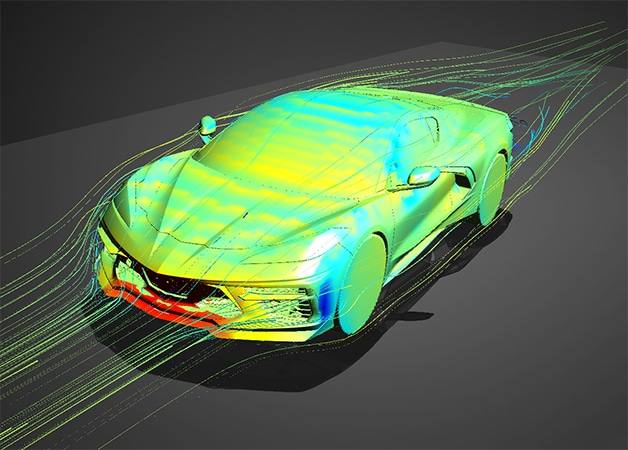 Quality and Craftmanship, Built in house at our own dedicated manufacturing facility where we build all of our products to maintain a meticulous quality standard. All of our painted products go through a 3 Stage clear coat and finishing process to ensure a lasting gloss finish that will provide years of protection for your product. All of our painted products are sprayed with a premium automotive UV clear coat.
Finish Option:
– Carbon Fiber reinforced with high grade composite material. Our premium carbon fiber comes UV Clear coated with high quality automotive clear that yeilds a extremely high gloss finish.
– Carbon Flash Metallic Black color matched to GM Carbon Flash Metallic finish, UV Clear coated with high quality automotive clear that yields a extremely high gloss finish.
– Composite Unpainted high grade composite material, with a primer finish. Rear for prep and paint.
The C7 Carbon difference:
We are one of the few manufactures that purchases all the cars we build products for.  Our advanced design team has years of engineering experience with composites, and allows us to offer the best quality products for your car.
Our inhouse design department scans in all of the cars we are working with and creates cad files from the scans to create a digital twin of the car so we have accurate measurements for our design and production concepts and fixtures.  We constantly improve our tooling and product versions to offer the best products possible for our customers.
Our dedication to quality has allowed C7 Carbon to become a world leader in manufacturing automotive products.  We have customers across the world running our products.
Please contact us for current lead times!