Description
Give your C8 Stingray that awesome C8 Z06 look with this Z07 style Performance Chassis-mounted Rear Wing. This Wing option comes without the rear duckbill, making it an ideal choice for Corvette C8 without any exposed pre-drilled holes on the rear bumper cover.
Wing blade's end caps are one-piece with the wing blade.
UV Automotive clear coated with multiple layers of clear for a long lasting shine.
Our painted products are polished to a high gloss finish for the ultimate shine.
Upgraded bolt system design that provides more stability at high speeds over the OEM design.
CNC machined braces that attaches to the vehicle's chassis, to offer maximum support to the wing.
Fits Stingray / Z51 only.
Upgraded Design to accommodate high speeds and will not cause vibrations.
Hand polished and sanded to achieve a long lasting beautiful finish.
Price Includes:
Z07 Wing blade
Uprights
Mounting hardware + chassis braces
– NOTE: Some trimming on the rear bumper cover may be required in order to let the chassis-mounted uprights go through.
Finish Option:
Carbon Fiber reinforced with high grade composite material.  Our premium carbon fiber comes UV Clear coated with high quality automotive clear that yields a extremely high gloss finish.
Carbon Flash Metallic Color coded to GM Carbon Flash, made with high grade composite materials.
Unpainted Composite reinforced with high grade composite material. This finish option is ready for you to primer and prep the product for paint. An excellent choice for customers wanting to paint their parts or wanting to wrap them.
Carbon Fiber and Carbon Flash Metallic products are sprayed with 3 generous coats of clear to ensure a long lasting gloss finish and UV protection. In addition to a high quality automotive clear coat, we use a marine based clear gel coat to add extra depth as well as UV protection into our products. The clear coat is then hand polished and sanded to achieve a long lasting beautiful finish.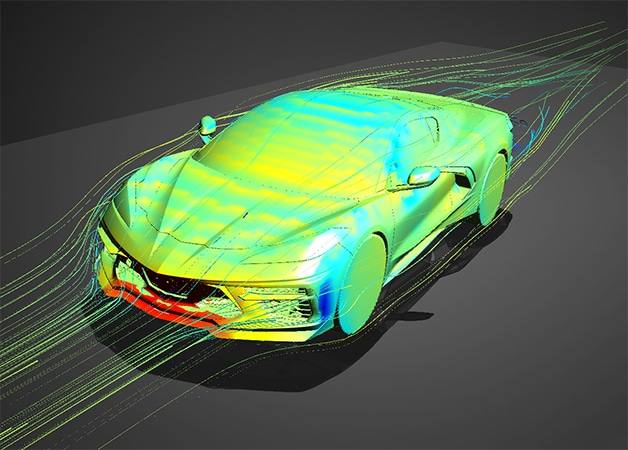 Our products are tested and verified with CFD analysis for optimum results and aerodynamic efficiency.
Quality and Craftsmanship. Built in-house at our own dedicated manufacturing facility where we build all of our products to maintain a meticulous quality standard. All of our painted products go through a 3 Stage clear coat and finishing process to ensure a lasting gloss finish that will provide years of protection for your product. All of our painted products are sprayed with a premium automotive UV clear coat.
The C7 Carbon difference:
We are one of the few manufactures that purchases all the cars we build products for.  Our advanced design team has years of engineering experience with composites, and allows us to offer the best quality products for your car.
Our inhouse design department scans in all of the cars we are working with and creates cad files from the scans to create a digital twin of the car so we have accurate measurements for our design and production concepts and fixtures.  We constantly improve our tooling and product versions to offer the best products possible for our customers.
Our dedication to quality has allowed C7 Carbon to become a world leader in manufacturing automotive products.  We have customers across the world running our products.
IN PRODUCTION
Please contact us for current lead times!
We ship all over the world. contact us for a quote.