Description
Our Daytona spoiler was designed inhouse to provide as little drag as possible but offer maxium downforce. When positioned into the maximum setting, this spoiler can generate 750ft lbs of downforce. This wing is truly the most advanced and aggressive spoiler you can get for your c8 corvette.
Sprayed with UV protected clear coat.
Polished for a glossy finish.
74″ Wide.
Uprights ship in a carbon flash paint.
Fabrication required for installation.
Comes with Connecting hardware & Chassis mount to install to the frame of your c8 corvette.
Spoiler is made from 100% Carbon fiber
Hand polished and sanded to achive a long lasting beautiful finish.
Our Daytona racing products are a special order item and can not be canceled once the order is placed. Lead times can be 1-6 Months from the time of ordering.
Finish Option:
Carbon Fiber Made with Carbon Fiber and aerospace fabrics. Our premium carbon fiber comes UV Clear coated with high quality automotive clear that yields a extremely high gloss finish.
Painted Carbon Flash Made with Carbon Fiber and aerospace fabrics.  UV Clear coated with high quality automotive clear that yeilds a extremely high gloss finish.
Unpainted Composite reinforced with high grade composite material. This finish option is ready for you to primer and prep the product for paint. An excellent choice for customers wanting to paint their parts or wanting to wrap them.
Carbon Fiber and Carbon Flash Metallic products are sprayed with 3 generous coats of clear to ensure a long lasting gloss finish and UV protection. In addition to a high quality automotive clear coat, we use a marine based clear gel coat to add extra depth as well as UV protection into our products. The clear coat is then hand polished and sanded to achieve a long lasting beautiful finish.
Our products are tested and verified with CFD analysis for optimum results and aerodynamic efficiency.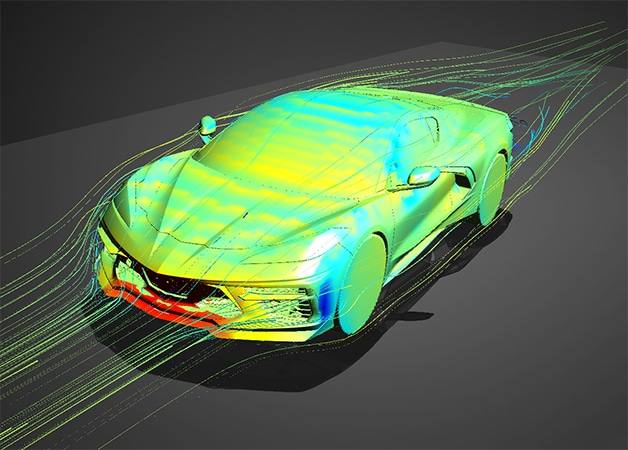 Quality and Craftsmanship. Built in-house at our own dedicated manufacturing facility where we build all of our products to maintain a meticulous quality standard. All of our painted products go through a 3 Stage clear coat and finishing process to ensure a lasting gloss finish that will provide years of protection for your product. All of our painted products are sprayed with a premium automotive UV clear coat.
The C7 Carbon difference:
We are one of the few manufactures that purchases all the cars we build products for.  Our advanced design team has years of engineering experience with composites, and allows us to offer the best quality products for your car.
Our inhouse design department scans in all of the cars we are working with and creates cad files from the scans to create a digital twin of the car so we have accurate measurements for our design and production concepts and fixtures.  We constantly improve our tooling and product versions to offer the best products possible for our customers.
Our dedication to quality has allowed C7 Carbon to become a world leader in manufacturing automotive products.  We have customers across the world running our products.
We ship all over the world. contact us for a quote.
Please contact us for current lead times!
*Price is + CA Sales Tax if the order is delivered in California.
Due to the size of this item, shipping is billed seperately when the item is ready to ship. Item may require freight delivery. Please Contact Us for shipping quotes.